CROSS COUNTRY
Cross country at River Oak Christian Academy is a fall sport for students in fourth through seventh grades. Runners interested in participating on the cross country team are encouraged to train on their own throughout the summer, with team practices beginning in early August. The eight-race season begins in early September and runs through mid-October. River Oak Christian Academy competes with students in fourth through seventh grades from other parochial schools in the area through the Central Missouri Parochial Athletic League (PALS). At this level, races are 1.5 miles long and are run mostly in grassy fields and wooded paths, with a mixture of short, steep hills and gradual climbs.
In the sport of cross country, every runner on the team competes in every race, and sportsmanship among teams is a source of pride in the sport. Runners strive to set new personal records each time they assemble at the starting line. They compete against themselves, in addition to other runners on the course. While our coaches encourage runners to train hard, they place emphasis on developing healthy exercise habits and improving runners' sense of personal responsibility.
ARCHERY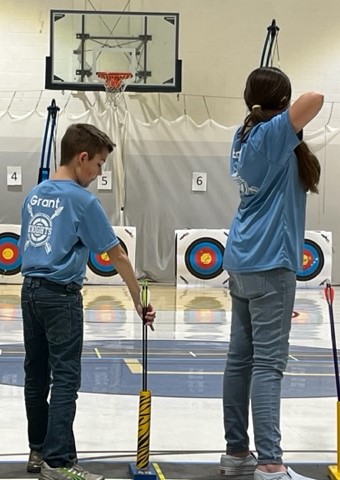 River Oak Christian Academy's archery program began in 2017. The archery curriculum, which is part of the P.E. program, is aligned with the Missouri National Archery in the Schools Program (MoNASP) and has been implemented with the support of the Missouri Department of Conservation. The sport of target archery offers students of all ability levels the opportunity to achieve success while learning important life skills such as patience, concentration, and following directions. River Oak fourth through seventh graders are able to participate in archery tournaments as part of the school team.