This testimonial was written in 2017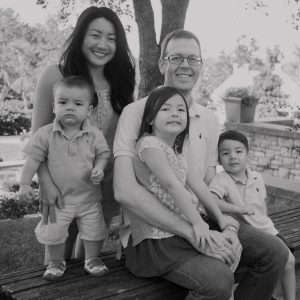 Tell us about your family. What are some of your favorite things to do together?
Jeff and I have been married for 8 years.  We have 3 children, Sophia (5), Rhys (3) and Bennett (1).  Sophia is a kindergartner at River Oak. We like to cook and bake together as a family.  We enjoy spending time outside at the Runge, family farm, and outings in St. Louis such as The Fox, Zoo, and Eckerts.
How long have you been a part of the school?
We have been involved in River Oak since the spring before Sophia started pre-k.  I presented at the school's multicultural day, and as my first experience talking to the students, I was very impressed at how the older students helped the younger students, all the students were kind to each other, and especially that the students were very respectful, kind, and gracious to me as an adult coming in.
How has the school partnered with you as parents to help your children thrive?
We are so blessed to have a school that shares in our family's philosophy of Christian education.  We believe that our children's education is not only the school and teacher's responsibility, but ours as parents as well. We want to have an active role in our children's education, supplementing and reinforcing what is learned in the classroom. The education at River Oak not only aims to excel in academics, but also in Christian values and truths.  The teachers encourage students to be biblical role models inside and outside of the classroom.  Sophia is constantly singing praises and applying verses and stories learned.  Her young faith is growing because of having consistent traits of honorable character exemplified by us as parents and other family members, peers, and teachers.
"We believe that our children's education is not only the school and teacher's responsibility, but ours as parents as well."