This testimonial was written in 2017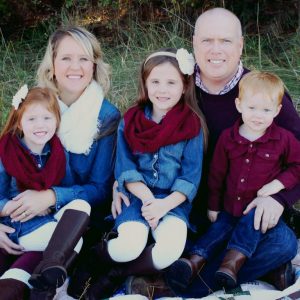 Tell us about your family. What are some of your favorite things to do together?
We are a family of 5. My husband Daniel and I have been married for 11 years. We have 7 year old twin girls: Raylee and Paelynn. We also have a two year old son, Graham. We love movie nights, fishing, and spending time with grandmas and grandpas!
How long have you been a part of the school?
We started our girls last year at River Oak for kindergarten, and we plan to send Graham in a few years! It has been a wonderful few years!
How has the school partnered with you as parents to help your children thrive?
The teachers and staff have taken the time to get to know the girls: their personalities and talents, along with the ways they learn and what makes them tick! If one of the girls is having a hard day, her teacher takes time to pray with her and to talk through what is wrong. When the girls were sick, the teacher even adjusted the lesson plan to make sure they didn't miss something they were particularly interested in. Every child is different and that is embraced at River Oak.
"Every child is different and that is embraced at River Oak."