This testimonial was written in 2017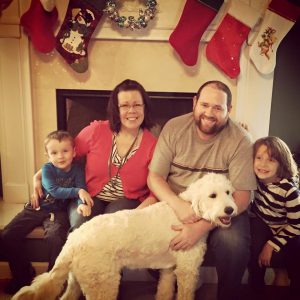 Tell us about your family. What are some of your favorite things to do together?
Nick and I have two children: Ella, 10, and Derek, 5. Ella is a fourth grader at River Oak and Derek is in kindergarten. We love music, traveling and all things Star Wars. Both kids play the piano and Ella is learning to play the Cello with the River Oak Orchestra. We love to listen to different kinds of music together and look forward to seeing the Lion King live at the Fox next Spring.
How long have you been a part of the school?
Ella started kindergarten at River Oak (back when it was CCS) in Fall 2012 and we've been there ever since.
How has the school partnered with you as parents to help your children thrive?
River Oak has been such a blessing to our family, I'm not sure I can adequately put it into words. When Ella was diagnosed with Autism Spectrum Disorder (Aspergers) in January 2014, her teacher at the time said to us,
"Well, she's right where she needs to be because we can love her like God made her."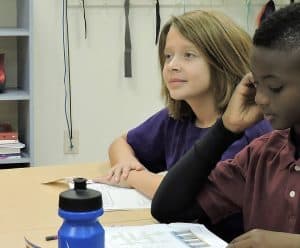 Those weren't just pretty words – they have been proven time and time again through action. The teachers, administrators and staff at River Oak forever hold a place in our hearts because of the way they have embraced our girl, shown her unconditional love, and helped her to shine. It hasn't always been easy. We've spent many hours in conversations with the wonderful teachers and staff at the school figuring out the best course of action and we have never doubted that they have her best interest at heart. We are a team. The small class sizes and family atmosphere have been the perfect environment for Ella and she absolutely thrives at River Oak.
The academics are second to none. My kindergartner is learning to read and we are constantly receiving tools from Miss Land to help him at home.
Most importantly, we are thrilled with the spiritual development our children receive at River Oak. They are learning scripture and how it applies to their life. Sunday School teachers at our church are always telling us how impressed they are with Ella and Derek's knowledge of the Bible and the wisdom they convey in class. We always give full credit to River Oak and the wonderful Christian education they receive there.